Join us as we take a look into the top 5 sectors that will boom this decade: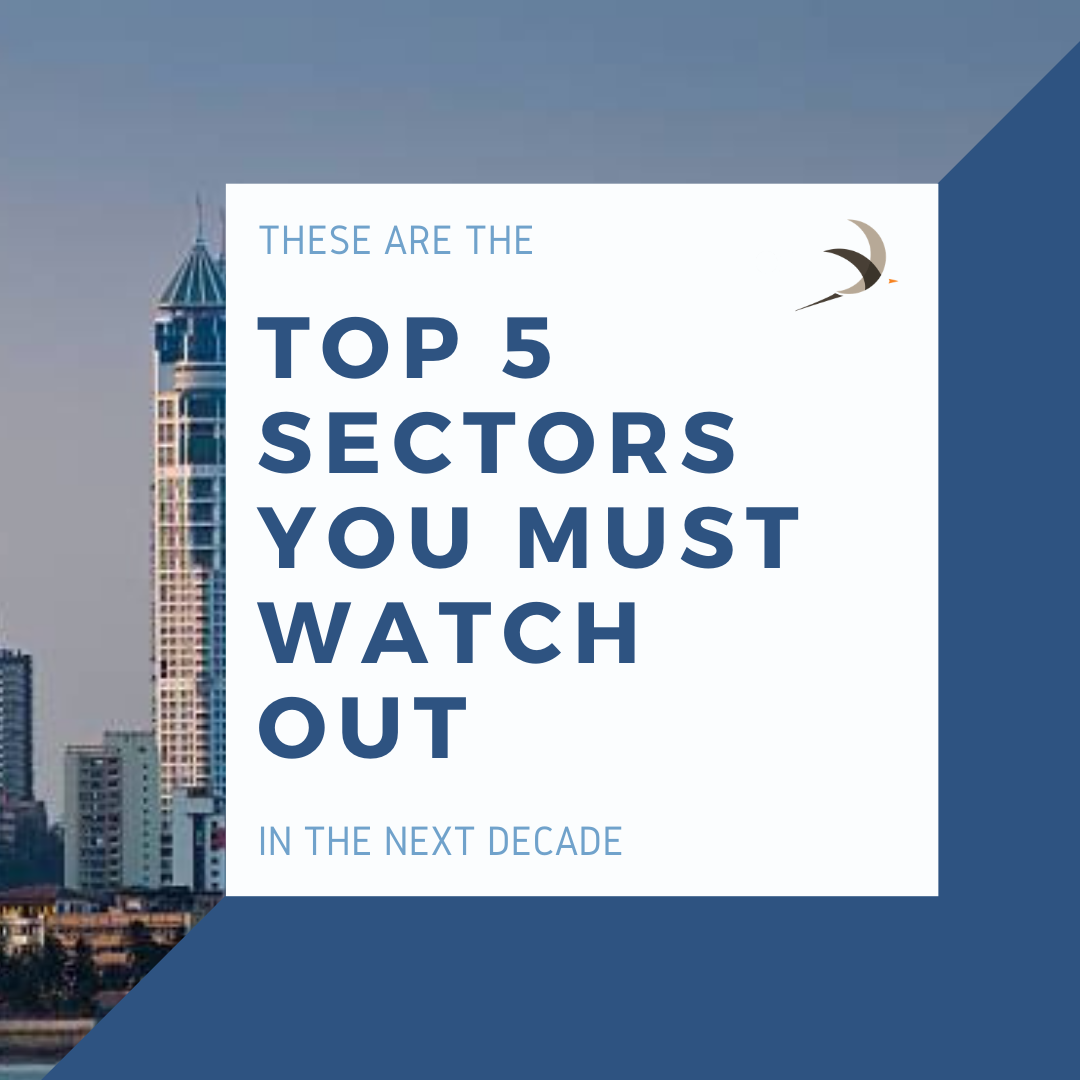 1. Leveraging SaaS to grow businesses in India
With more enterprises across the world shifting their operations and offerings to cloud-based applications, SaaS comes in handy to enable companies in making decisions based on processing complex data. It is broadly a model wherein a third-party software provider hosts applications over the internet, through which the customers can carry out their businesses.
A very recent boom of Software as a Service (SaaS) startups has put India at the very centre of growth in this industry, with many experts indicating that the country in the near future is set to be the SaaS hub of the world. A NASSCOM study observed that by 2025, SaaS in India is likely to cross a 15-billion-dollar revenue benchmark.
The fact that SaaS is now finding a large market to expand in the growing MSME market space, where it aids many small businesses with their everyday operations, proves its potential. The entire operations of the businesses have been revolutionized and transformed into being predominantly tech-based. And with this, companies are seeing a considerable increase in productivity, efficiency, and profitability. It's true, the software is really eating the world!
With our experience of building technology solutions for companies of varying sizes and domains, we enable you in your journey of building these solutions and keep you on the right side of change.
2. Serving the Underserved: Financial Inclusion
We're seeing a rise in founders that are serving the unserved and underserved by means of financial inclusion.
Financial inclusion is the access to formal financial products, tools and services in a consistent and affordable manner. In a country like ours, with broad economic disparity and diverse socio-cultural aspects, financial inclusion is crucial for communities that have restricted access to various such services. In fact, a more inclusive financial system is indicative of a healthier and sustainable economy.
A new wave of inclusion has begun by leveraging tech and market access created by high-speed networks, due to high internet and smartphone penetration, to bring financial tools and products to communities that didn't have access before. With initiatives like opening a savings account for all, people can save their money in banks securely and earn interest, and avail of other services like mutual funds, saving instruments, lending products, and insurance policies through similar initiatives.
In the upcoming decade, we are bound to see huge leaps and progress made in this field. With India being one the fastest growing economy in the world, this industry in itself has a great potential to grow.
3. SME Tech
One of the fields where we can expect significant growth due to technology is in the MSME sector. We've already seen how the pandemic disrupted the industries and it's no different for the MSME sector. The only problem is, the sector will have to immediately adapt and transform to leverage technology for its survival.
The sudden change in the business landscape because of the disruption has created a demand for the kind of technology that can help accelerate productivity while being remote. SME Tech, on the other hand, has become a solution for all the small-scale businesses to achieve agility and continue their operations without letting the pandemic negatively impact their businesses.
While digital transformation remains the key to survival in the future, the adoption of technology that assists business management to help improve the efficiency and effectiveness of the organization is the first immediate step to take towards digitization.
Advancements like IoT, AI, Cloud computing, 5G among others can help scale a small business, increase their reach and expand its operations. Many of these technologies require very little effort to integrate and are extremely cost-effective suiting the needs of many small businesses.
We've seen many such businesses thrive during the lockdown simply because they went digital before their peers and at Windrose we help enable this digital transformation by supporting the tech founders who create value by serving this underlying need.
4. Fintech for the mature and Sound businesses
In South Asia, fintech 'unicorns' are a few of the best-funded digital startups because of their potential and capabilities. In 2019, India, in particular, set a new annual record high for fintech investment. Reports have estimated that by 2022 the most number of unicorns would hail from the fintech sector.
Fintech as an industry has blossomed recently, especially consumer fintech which has helped improve end-user experiences across domains. However, we anticipate that it is now time for B2B Fintech to claim the spotlight.
Fintech offers businesses with technology solutions that enhance existing financial products and services, increasing efficiency and accuracy. The innovations in this sector are bound to help with financial operations, enhancing payment processing and working towards building a safer infrastructure assessing risks and eliminating frauds.
Fintech will continue to expand, and this growth is set to include verticals like identity fraud, compliance, security and risk. With all the advancements made in this industry, it is now time to refine several of these advancements and tailor-make it according to the needs, increasing efficiency.
5. Power of Deep-Tech
Since 2014, the Deep Tech sector in India has grown at 40% CAGR and it's safe to say that there is a lot more potential in this sector for us to witness. Although Deep Tech initially was focused on engineering innovations and scientific advancements, lately we've been seeing an increase in using this tool to become more client-oriented with tailor-made solutions for their problems.
In India, the sector is now blooming at an enviable speed and with 18% of all start-ups now leveraging deep technologies, it is well on its path to disrupt and create value on a larger scale than the industrial and informational revolutions.
Upcoming technologies like Blockchain, 5G and AR/VR are also heavily banking on the tech for advancing their products. Leveraging Deep Tech has been seen as an instrumental tool in providing solutions to India's pressing problems, at a larger scale.
Due to this Deep Tech has seen a significant increase in recent years growing over 20% annually between 2015 and 2018, culminating in nearly $18 billion of investment worldwide. This is definitely a field to watch out for in the upcoming decade as it differentiates itself through its enabling power and potential to create change.
At Windrose, this is the kind of impact we'd want to co-create along with these entrepreneurs who are working towards enabling change.