Too eager to get funding? Read on to know about few classic pitfalls to avoid while you focus on scaling:
As a founder, you'd know fairly well how a bad deal sounds like. But even then we see many founders ending up with investors in bad deals. With every kind of pitching tips available on the internet, we thought of twisting it up a little and providing useful tips on things to AVOID while fundraising. Almost all of these are for early-stage funding since Windrose Capital invests in early-stage startups.
These are the classic 5 Red Flags to Avoid while Pitching to Investors: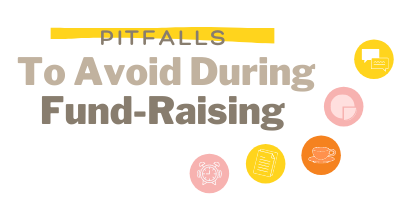 Raising Too Late

Not Going Beyond Commercials

No Value Beyond Cheque

Diluting Too Much Too Early

Having Communication Gaps
1. Raising too late
Timely raising of funds is always a great idea but knowing when to do so, is a mark of a great founder.
A good rule of thumb is to always raise capital (or start the process of) when you don't need it.
At Windrose, we've seen many great founders come to us way before they even require the capital. They have more than sufficient runway left, yet they seek the funds to plan ahead, increase runway and get to scaling immediately.
Raising capital too late might cause you unnecessary stress, hamper your operations, and lose out on time; none of which you can afford as a founder.
2. Not going beyond commercials
Commercials are just one aspect of fund-raising. Not the entirety of it.
Many good founders and startups get into various complications after fundraising because they don't know the rights they're settling for. Incubators, VCs and investors sometimes may not understand the business well enough to propose the kind of rights that explicitly benefit the founders. However, even then we've seen many founders jump into such opportunities in order to get the funding.
Know that it is counterintuitive. It makes absolutely no sense to settle with investors whose offer may not help you grow and scale your business. On the other hand, it also doesn't look good on your part, if you seem too eager to sign any kind of offer without knowing how some rights may hamper your startup.
Understand what rights you're settling for. Many good startups have suffered in the past because they didn't understand the consequences of the rights they were waiving off to investors.
3. No Value Beyond Cheque We might have repeated this time and time before: If the investor only provides capital and nothing beyond that, you're better off on your own (this obviously excludes the founders who know their businesses in and out and only want the funding- nothing else). The value and the network brought in by the investor has to exceed just the tangible assets.
At a stage like seed where it is crucial for the development of the business, the value of a crucial stage like the seed, a bad investor might hamper your growth and your ambitions by just handing you capital but not contributing to your growth via other means.
4. Diluting Too much too early
Eager to rope in potential investors, founders may make a grave mistake to dilute their shares too early in their journey.
This may disincentivize the 'entrepreneurial spirit' in founders and pose a problem for future fundraising rounds. With way too many people on the board very early on trying to call 'shots', this is a recipe for disaster. Apart from hampering decision-making skills, this may also prove to be a big hurdle to cross when you're trying to raise funds for the future. Future investors may not look too kindly when they see early investors holding on to a major chunk of the pie!
5. Having communication gaps
As a founder, time is your most important resource. Especially, as an early-stage founder.
You'd be saving yourself and everyone this invaluable resource after making sure you are communicating your terms across directly and transparently. Trying to overcomplicate things to sound impressive, is never really the solution. And this becomes a major problem when further down your journey, unkept promises surface.