What are some of the values a founder should look for in their VC/investors?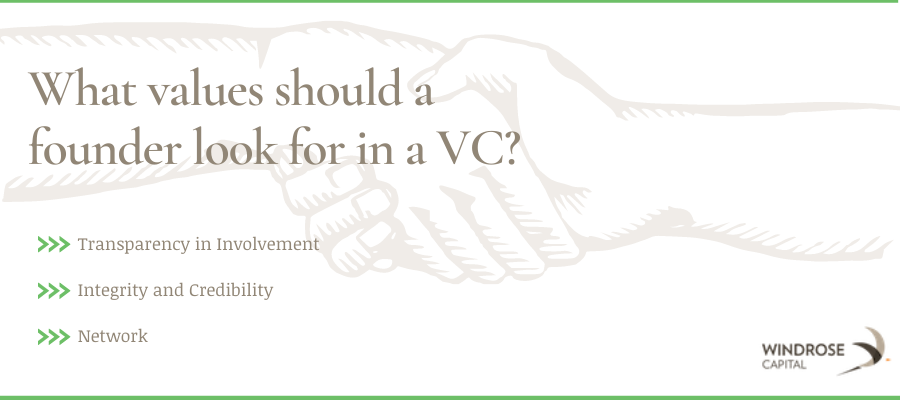 As a founder, finding the right investor for your passion project may seem to be the most daunting task ever. Though the pandemic may have been a wake-up call for many founders with incompatible investors, now would be a good time for first-time founders to revise their 'investor checklist'. The perfect investor is almost a myth but the search goes on!
Choosing the right investor for your endeavor goes beyond just the capital being invested in and more about what they bring to the table.
Because of the current times, we find ourselves in, choosing this list of criteria carefully is an integral part of the process. The Top Three values we recognize founders looking for in their potential investors are:
Transparency in Involvement
As a mission-driven founder, you'd want transparency from your investor at every step and their alignment with your goals. Transparency is a value that most founders miss because naturally, it isn't seen as an essential value to look at initially. However, if anything Covid-19 has taught the startup ecosystem, it is that with transparency it becomes easy to gauge the performance and workability of the idea accurately.
One question that founders don't ask enough to investors is their fund life and investment time horizon. When looking for an investor, cheque size shouldn't be your only primary concern. In many cases, the intangible assets that the investment brings to the table create more room for you and your venture to grow. And if the investor is candid about these things, and replies honestly about all queries that you might have, it is a win!
Always believe that a long-term focus, an open-transparent relationship, and involvement from an investor are always more beneficial than just a quick exit, in the long run.
Getting valuable advice and insights about the industry, the kind of strategies to be adopted to scale, and getting harsh doses of reality checks from time to time contributes significantly to your growth than anything else. If we, as investors, believe that we've invested in the right kind of founders and in the right market, we will be able to find a business model that will work (even if this takes multiple pivots!)
Integrity and credibility
In a 2017 study of founders of some first-round portfolio companies, "good character" was listed as the number 1 factor for choosing their lead investor.
Although expertise and experience in your domain do matter a lot (we won't deny), a factor always neglected is how credible the investor is.
A fun exercise to indulge in for realizing the answer to this question would be to think if you'd want to spend time with that person in a personal capacity. A way to find out more about your potential investor is to connect with as many mutual contacts and know more about them, follow them closely to see if your core values and thinking are aligned, and then make the call.
Network
One of the most important contributions an investor can make is related to their domain expertise and network, which will be direct outcomes of their background.
Traditionally, the three core competitive advantages of VCs include their capital, knowledge, and network. While capital is primary, extensive knowledge of your business's domain and a vast network of highly influential people can help you grow. In a lot of ways, the kind of intra-portfolio synergy we inculcate can help your business in the most unexpected ways.
Additionally, the richer the network of driven founders, strategic partners, and other domain experts of a VC firm, the greater are your chances to gain more than just practical knowledge.
At the end of the day, an investor who shares the same vision as you and compliments you in areas that are outside your expertise is a great person to work with. These factors might just be some defining parameters through which you can land yourself an investor who is dedicated to supporting your venture and guiding you.